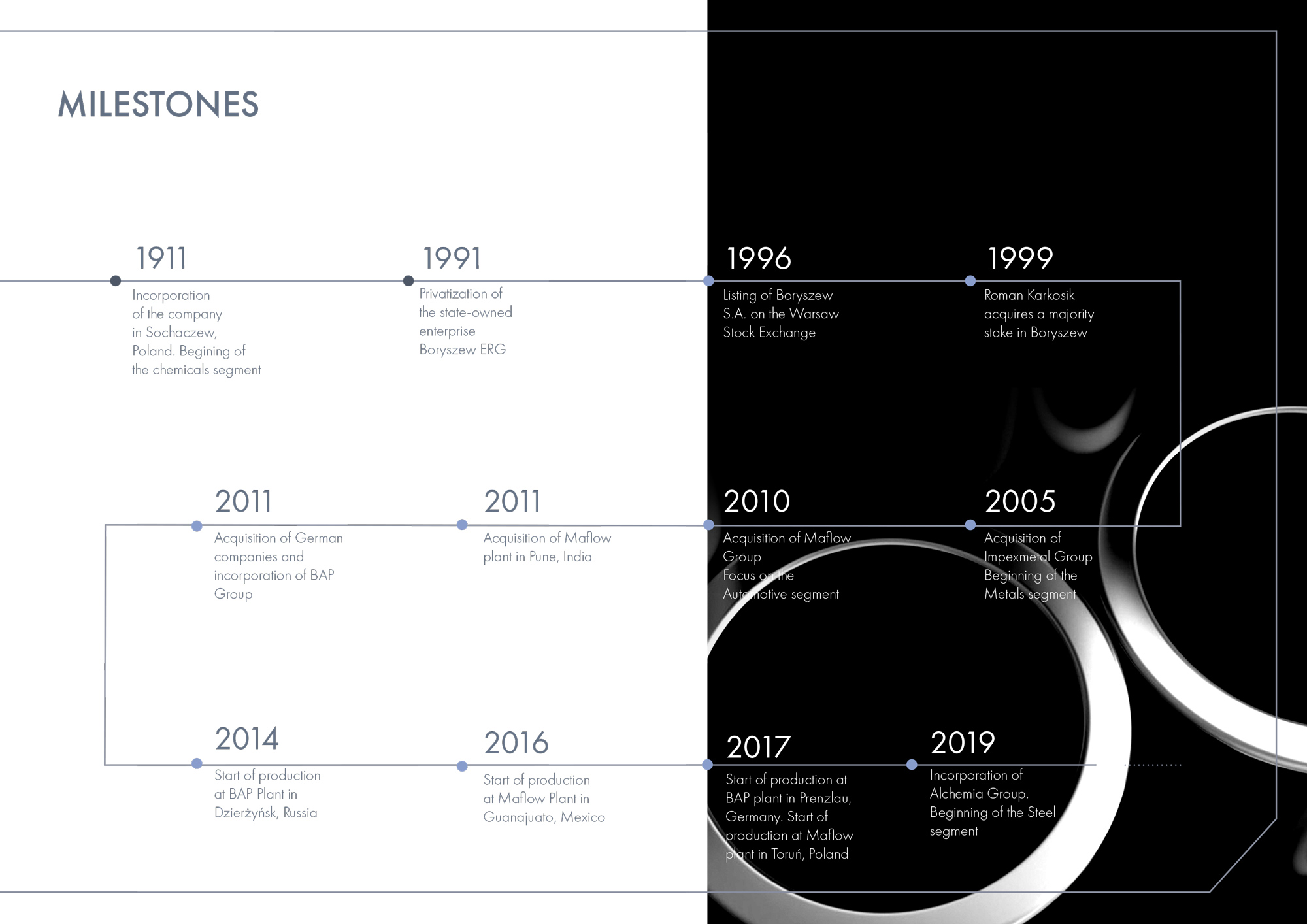 The history of Boryszew Group goes back to early 20th century, when in 1911 the company Belgian Society of Sochaczew Artificial Silk Factory was established. After World War One, the factory started to produce gunpowder. In the 1930s, Boryszew's flagship product became Borygo dental cements which were produced until the 1950s.
Post-World War Two, the factory was nationalized. In 1991, through the privatization of the state-owned enterprise Boryszew ERG, the fully privately-owned company Boryszew S.A. was established. Since May 1996, the shares of Boryszew S.A. have been listed on the Warsaw Stock Exchange.
In 1999, Boryszew S.A., offering a wide range of chemical products (including the bestselling radiator fluid and engine coolant Borygo), was taken over by a strategic investor, Mr. Roman Krzysztof Karkosik.
This marked the beginning of the process of the Company's dynamic growth and development. Boryszew's activity on the M&A market, including mergers and acquisitions of chemical sector production companies and their restructuring, as well as the organic growth due to rising sales of the Group's companies, helped improve performance through synergies and cost optimisation. Consequently, shareholder value was increase which resulted in rising prices of Boryszew's share at the Warsaw Stock Exchange.
In 2005, Boryszew S.A. seized control of Impexmetal S.A., another WSE-listed company and a parent of other companies focused on manufacturing of non-ferrous metals sector and trade in bearings.
In 2010, Boryszew S.A. took over Maflow Group, one of the largest manufacturers of A/C hoses, as well as electric power steering systems (EPS) and active suspension systems (ASS) for the automotive industry. Automotive became the key segment of activity.
Throughout 2011 and 2012, Boryszew continued to pursue the Group's business development strategy by acquiring companies from the automotive sector. In July 2011, the Company took over two German groups (AKT/ICOS and Theysohn), both of them active in plastics processing, and in March 2012, acquired the assets of the German YMOS Group, Europe's leading manufacturer of plastic, galvanised and chrome-plated components for the automotive sector. Out of the acquired plastics companies, Boryszew Automotive Plastics (BAP) Group was created. In the following years, Boryszew Group focused on organic growth. In 2014, a factory was opened in Russia (Boryszew Automotive Plastics), in 2016 – in Mexico (Maflow), in 2017 – in Prenzlau (the largest Polish greenfield investment in Germany) and in 2018 – in Toruń (Maflow).
In 2019, Boryszew Group took over Alchemia Group, specializing in the manufacture of steel products.